'Lucky to be alive': Edmonton couple shaken after being hit by SUV fleeing from RCMP | CBC News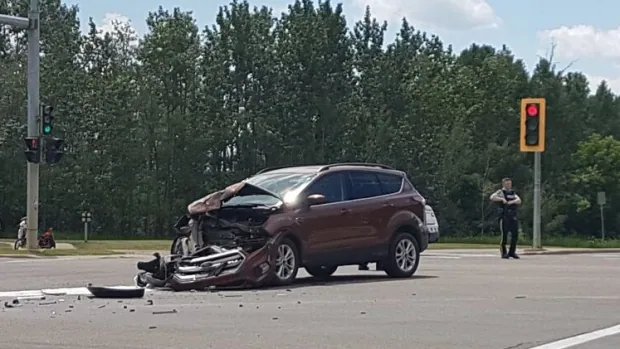 The SUV running a red light, the reflex to veer out of its way, the impact that demolished his Ford Escape's front end and — before he could even dial 911 — the arrival of multiple police cars as the SUV slammed into a tree and killed the driver.
For Edmonton's Kevin Maher, those few minutes in a Red Deer intersection on Friday were impossible to comprehend at the time and still seem surreal days later.
"We count ourselves grateful and lucky to be alive," Maher, 34, said Sunday from a "pretty special" Canada Day celebration with friends. "Hopefully this is the last time we dance with death."
Maher and his fiance, who operate a small wedding videography company, were en route to a reception in Kananaskis Friday when they stopped in Red Deer to surprise his younger sister with a visit.
They ended up in the path of a SUV fleeing from police.
"It was a green light, he had a red light and he just came out of nowhere," Maher said Sunday. "I heard my fiance scream, then I saw out of the corner of my eye this black SUV entering the intersection and that's when I tried to prevent the situation from happening as much as I could."
The SUV — a black Dodge Nitro —  had been stopped earlier by  RCMP for erratic driving in a north Red Deer parking lot. When the officer got out of his cruiser, the vehicle sped away.
RCMP said they didn't give chase for safety reasons. When police spotted the vehicle a while later, the driver of the Nitro took off once again.
At the intersection of 60th Street and Taylor Drive, the Nitro collided with Maher's Escape, then carried on through the intersection and slammed into a tree about 100 metres away. The male driver was pronounced dead.
"Within two minutes there seemed to be, like, 10 cop cruisers on the scene, and we hadn't even had a chance to comprehend what was going on," he said.
'I wish things had turned out differently'
Maher said that just before the Nitro crashed into their vehicle, he hit the brakes hard and veered to the left, trying to get out of the way. He believes that is what saved their lives.
"I knew we were going to make contact," he said. "And I thought if I could at least avoid as much as I could, we can reduce the damage."
Maher said they made it out to Kananaskis for the Saturday wedding and worked a 13-hour day while dealing with the physical pain and emotional after-effects of the crash.
"We're definitely dealing with the mental health side of things …  especially considering the other individual did not make it," Maher said.
"I wish things had turned out differently. I keep looking back, wondering if what I could have done differently."