HHS students get creative in new AV class – Hillsboro Free Press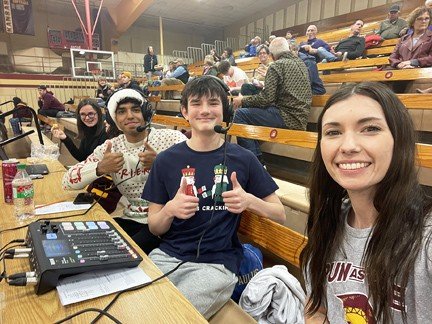 by Moriah Jost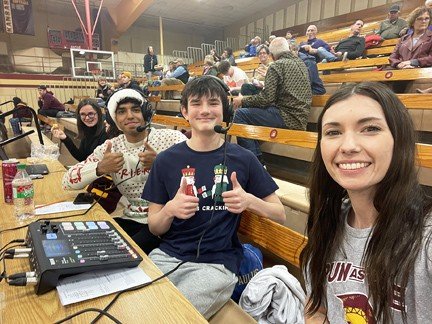 HHS AV Class students Pedro Nieto (in hat) and Aaron Paulus broadcast the girls basketball game online on Thursday, Dec. 15 while teacher Bailey Kaufman sat nearby available to help out with any issues.
The AV Class is a new option this year for students interested in working on audio and visual productions.
HHS athletes pose while the AV class makes sports promotional videos for winter sports.
HHS AV Class students cover plays online for Trojan football this fall.
Pedro Nieto and Tanner Plett grab photos and video at Trojan volleyball this fall.
Alana Suderman works on capturing video of Trojan football this fall for those watching online as part of the AV Class.
by Moriah Jost
One idea creates endless possibilities. This concept is exactly what led teacher Bailey Kaufman to establish Hillsboro High School's audio and visual productions class. From creating promotion videos to capturing stellar shots, it's a perfect opportunity open to students.
Kaufman shares what inspired her to create the class.
"I've always been interested in video, I've always had a side business making wedding videography. Last year, toward the end of the year, Makenna Reed approached me in class one day and asked if I would be interested in starting this class because she, Tanner [Plett] and some of those girls had some interest in pursuing that as a career. She talked with Jill [Hein] who said 'well, you'll have to find a teacher'," said Kaufman. "So she presented it to me, and I agreed that it sounded like so much fun."
Kaufman did a lot of research over the summer to figure out what a class would actually look like.
She said, "It's been a lot of 'I'm interested in it so I'll just try and learn as I go'. Then students become interested in it, too."
Senior Alana Suderman has enjoyed filming videos.
"My favorite videos to create were the first hype videos that we created. My group did the cheer hype video, and they were the first hype videos that we created so we didn't really know what we were doing. But it was just fun to experiment with the different camera angles, directing people what to do and editing the video together."
Each year, the Kansas Scholastic Press Association holds a conference. Students can go and learn more about photography, writing and videography. Kaufman and some students recently went to the Wichita Conference.
"They started with a keynote speaker and it was actually a news anchor so that was tied into more the video side of things because it was a journalism conference. I think the students came away from that with a lot of ideas," said Kaufman. "We got to sit in on a session with the AV teacher in Maize. Maize is obviously a lot bigger, but they've grown their program into more of a business that can make money, videos and more. I think that really inspired us to do big for this class."
When you attend a home basketball game, you can spot the students on the sidelines and also in other roles such as broadcasting and more.
To learn more about what this innovative group is up to, follow their Instagram @trojantv.