CUH Welcomes Fitness Influencer Jeremy Sry for Keynote Address, Fitness Demo
The sounds of both laughter and groans filled the Clarence T.C. Ching Conference Center as the Silversword community welcomed online fitness coach and Instagram influencer Jeremy Sry for a wellness keynote address and fitness demonstration on Friday evening.
Organized by the Office of Student Activities and Leadership (OSAL) and the Marianist Leadership Center, 25 students were able to listen in on Sry's story of success in pursuing his passions and participate in a guided session of stretches and breathing exercises. 
"[Despite] all your external factors and your environment, what you want to do and what will ultimately make you happy has to be your decision," Sry said. "For me to be able to come out here and hopefully inspire people to have that wakeup call and be honest with themselves, I hope that sets the precedent for the next me or maybe even better than that. Ultimately I just want people to not have any regrets as they move through this journey they get to call life."
Sry (pronounced sh-rai) was chosen by the two CUH organizations in attempt to bring a fresh perspective to campus. Andrew Peter Ancheta II, the activities coordinator for OSAL, expressed the importance of Asian representation. As the majority population at Chaminade with 28.2% Asian-identifying students as of Fall 2021, Ancheta II knew Cambodian-American Sry's story would serve as an example of success that students could possibly relate to better.
Born and raised in Long Beach, California, Sry graduated from UC Irvine in 2015 with a bachelor's of science in Public Health. Although currently amassing an Instagram following of 269,000, he landed on his occupation as an online fitness coach and influencer after seven years of bouncing around in various industries and arenas to find what worked for him.
A brief taste of all the work Sry has immersed himself in includes commercial acting and content creation, bodybuilding, wedding videography, YouTubing, to now his fitness business, in which he operates a website and an app, Pursuit by SRY, dedicated to personalized fitness coaching and emphasizing an individualized discovery of wellness.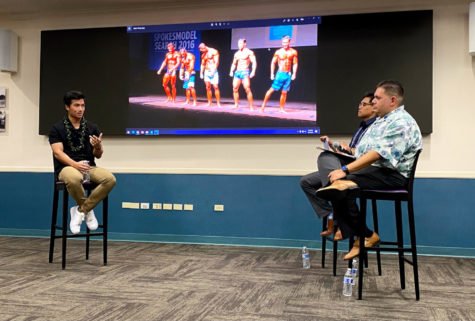 The keynote address was facilitated by Ancheta II and Joseph Granado, the director of OSAL, who alternated asking questions to Sry back and forth. Later, the floor was opened for students to ask their own questions for the fitness coach. 
Sry's aspirations for his keynote address were to invigorate students to follow what they want to do instead of what they feel like they should be doing and to trust the process of opportunities and people entering their lives as they pursue those passions.
"I feel like a lot of us live in this regimented mindset that our parents have set up for us," Sry said. "And it's in their best interest, like it's what they want for us and it's what they envision success to look like."
He asserted that despite his path straying from the typical images of Asian excellence, such as the doctor or lawyer pipeline that many Asian parents shove down the throats of their children, he still found success on his own terms in a way that his family can get behind. 
Sry attributed his purpose for striving for success and wanting to inspire others stems from ensuring his mother's efforts of raising him were not in vain. Sry explained that his mother was a refugee from Cambodia during "those really tough times" in the late 1970s when roughly 1.5 million to 2 million Cambodians lost their lives to genocide at the hands of the Khmer Rouge.
"Her coming up stories are very different from mine," said Sry. "Mine was, 'I'm literally struggling on this final,' whereas hers was running through a wheat field dodging bullets. When I hear her challenges, it invokes this sense of responsibility to fulfill what I want to do."
Sean-Zacharry Lorenzo, a junior studying Chemistry, felt that Sry's talk expanded his perspective in how to achieve success. He said his main takeaways were about finding his passion and finding mentors who will help to grow his skills to succeed and accomplish that passion.
Lorenzo plans to apply this newfound inspiration by focusing on his dream career, working in the FBI. 
Following Sry's talk, the chairs were swept to the side of the room and the floor was cleared for the fitness demonstration portion. Since stretching is a fundamental skill for any form of fitness, Sry led the students through a series of stretches and breathing activities, leaving students both giggling and groaning as they followed his example.
Angel Faye Navor, a fourth-year Business Administration major, also attributed Sry's keynote to helping her feel both empowered to kickstart a wellness journey that works for her and inspired to follow the activities that bring her joy. 
Navor enjoys baking, thrifting clothes, and singing in her free time. Through her major she always recognized the ability to monetize her hobbies, and even did so selling sweets and baked goods last fall during the inaugural business competition hosted by Chaminade's School of Business and Communication.
"Jeremy wasn't lying when he said that opportunities will arise if you simply follow what makes you happy," the Waipahu native said. "It was nice to be reminded of that and it's reassuring to see someone making a living just doing what they love."